All Things E-Publishing
For over a decade, we have been crafting E-Publishing services. Having hands-on experience working with STEM, K - 12, children's books, journals, magazines, cookbooks, law & religious books.
Interactives
Adding high-resolution images, videos, and audio files 8 much more to make the eBook livelier & way more attractive.
Fixed Layout
Great for art books or other books that rely heavily on images or pictures. Authors/Publishers can embed text or images in the content and make illustrations more accessible to readers.
Media Overlay
EPUB Content Document that can associate & synchronize media such as video, audio & images.
Reflow
Reflowable epUBs formats are great for books that are mostly text, such as a novel or narrative nonfiction Adjust the orientation to fit into any screen size with a reflow format.
Enlightening eBook conversions with global standards that can interact across multilingual languages, multiple platforms, devices, and formats without losing its qualitative content. We deliver varied ePUB formats confining global standards.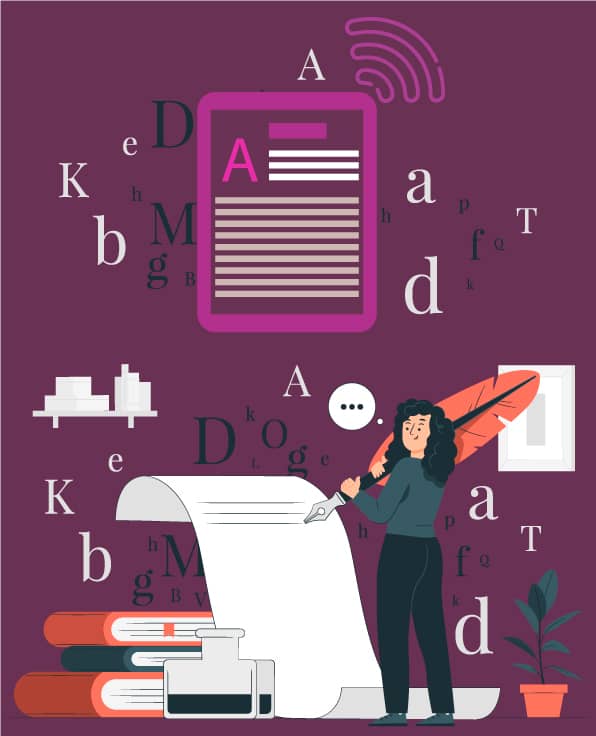 All Things Typesetting
We do book layout & design, cover design, etc.
for Journals Magazines Fiction & Nonfiction Books Science, Technical, and Medical Books

Crisp and clean layouts that convey the message to the readers in the multilingual language are what we aim for our adept and professionally experienced typesetters execute sequential processes, making the material print-ready and consumer-ready.

We are experienced in handling all types of composition services in In-design, Quark. Pagemaker, Math, In-Math for both PC & MAC versions.

Let the type talk because we know why fonts matter. & so, they matter a hell of a lot to us.
What can we do for you?
Hey, we think YOU + GENIES = MAGIC
Let's cater to quality, engaging & highly effective learning ambiance for learners. Together. we'll recraft learning journeys, Le making a difference, & break new grounds & build one-of-a-kind learning experiences.
Create
Innovative & Interactive Content!
Editorial Services
Comprehensive editorial solutions to help you along your publishing journey.

End-to-end editing help to speed up the publishing process.

Effective & expert team Premium Editing High-fi technology set-up Digital assistance.

Our subject-matter specialists hold advanced degrees from some of the world's most prestigious universities.

The team consists of numerous published writers and peer reviewers with average editing experience.

We have one of the largest pools in the area.
Our subject-matter expert performs significant language enhancements, assesses the flow and structure of ideas, satisfies the journal's formatting criteria, and writes a full report on the adjustments the manuscript requires.